Faculty of Education, Shimane University
The Faculty of Education is the only institution in the San-in area dedicated to developing teachers, who actively solve local problems connected with education, and take the lead in educating children who will be the driving force of the future of Japan.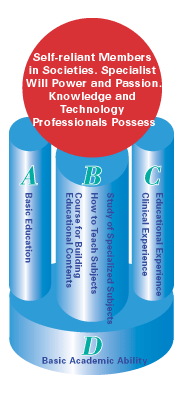 A. Mind for Teaching Profession
Territory A aims to encourage students to have self-awareness as specialists and to understand the social mission of the teaching profession by providing them with an extensive knowledge of juvenile education and educational planning.
B. Scientific Thought and Spirit of Inquiry
Territory B aims to contribute to encouraging students to systematically master a good grounding in specialist knowledge as 'teaching content' and also to understand the guiding method of subjects, to teach and the organization of curriculum. Students are required to have extensive expertise in both major and minor courses.
C. Clinical Mind
Territory C aims to encourage students to have a proper understanding of children and practical experience indispensable to the teaching profession, by providing them with systematic and continuous close relationship with children, on-the-job teaching experience, and clinical experience in school education.
D. Broad Education
Territory D aims to encourage students to acquire intellectual power and the extensive knowledge necessary for highly-developed specialists. Students are required to acquire the basic knowledge and practical power necessary for highly-developed specialists by studying these territories actively and harmoniously.
◆Special Integrated Program
We are very proud that the Faculty of Education, Shimane University is the first teacher education institution to create the special program, and we guarantee that we can offer you the best teacher education program in Japan.
1.Education Program Dedicated to Developing to the 21st-century School Teachers
・Elementary Education
・Psychology and Developmental Support
・Education in Language and Culture
・Education of Social and Cultural Studies
・Fundamental Mathematics Education
・Natural Science Education
・Life and Environmental Science
・Health and Physical Education
・Art and Music Education
2. Major and Minor Course System
At the beginning of the second semester, freshmen decide their major and minor subjects to take, which leads to at least two certifications of teaching different subjects. Students are required to complete the courses for both major and minor subjects.
3. 1000-hour Experiential Program
1000-hour Experiential Program immerses students in a hands-on experience of meeting and communicating with people, in particular with children. This special program consists of three subprograms:" Introduction to Practicum", which puts students into direct contact with children in a variety of environments (400 hours); "Practical Education Program", where students practice teaching at school (400 hours); "Practicum in Counseling", which develops and enhances basic skills in clinical psychology, including counseling (200 hours).
4. Preliminary Hands-on Learning Program
Hands-on learning, including practical training at a nursing home, helps students come to realize the importance of supporting people.